A skilled writer, Richard Levesque pens stories in the tradition of the early-to-mid 20th Century pulps, but he raises that tradition to greater heights with a strong twist of trademark Levesque Noir. High quality, well-crafted reads, his novels are an immersive, genre-driven experience that will not fail to please fans wanting well-written, fast-moving tales. Heck, they please me, and I favor neither noir nor pulps from any era. Richard has, in fact, managed the impossible — turning a roll-eye, curled lip detractor of pulps and 'avoider' of noir into a "Strictly Levesque" fan of his. (So, yes, he writes very well.) — D. L. Keur
Born near Montreal, Canada, Richard Levesque grew up in Southern California. He began writing while in college, publishing several pieces in college journals while working on his undergraduate degree at Cal Poly Pomona. After finishing his Master's Degree in 1990, he focused more on teaching than writing for a few years, eventually completing his Ph.D. at UC Riverside in 2000. His dissertation was on Hollywood novelists of the 1920s and 1930s.
Since 1999, Richard Levesque has been part of the English Department at Fullerton College and turned again to writing a few years ago. His first book, Take Back Tomorrow, was published in 2012, and he has followed it with other science fiction and urban fantasy novels, novellas, and short stories. He primarily writes science fiction, but continues to have a strong interest in early Hollywood and Los Angeles history and culture and often works those themes into his writing.
When not writing or grading papers, he spends time with his wife and daughter, working on his collection of old science fiction pulps, and trying to be better than a mediocre guitar player.
Science Fiction
The Unhuman Condition
$3.99
(Available in eBook & paperback)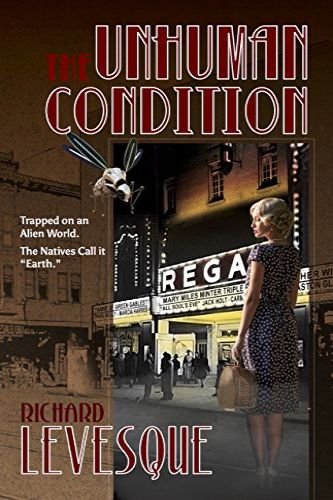 After her research mission goes awry, Lespeth is desperate to go home and put the nightmare behind her.
Unfortunately for her, home is light years away.
Trapped in 1921 Hollywood, all she can do is find a way to blend in with the aliens who surround her until she can get back to her native planet. And that's going to mean dealing with the hoodlums, drug dealers and dope fiends who dwell on the city's dark edges.
She doesn't know that her journey is about far more than a safe homecoming. By the time Lespeth discovers that the fates of both her species and all of humanity are tied to the choices she makes—and the ones that more powerful entities have made for her—the path back to her planet may be closed to her forever.
The Girl at the End of the World
$3.99
(Available in eBook & paperback)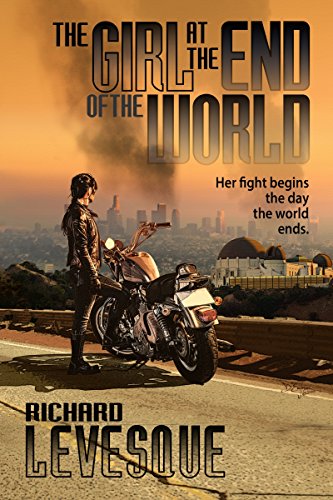 Her fight begins the day the world ends.
Scarlett Fisher is an average California teenager. She likes hanging out with her friends and talking on the phone. She does all right at school, and she's made the best of her parents' divorce. But in one way, she's special: on her fifteenth birthday, a fast-moving plague wipes out everyone she's ever known, yet somehow it passes her by.
Her family dead, alone in a corpse-strewn metropolis, she has no choice but to survive. She needs food, shelter, a safe place to sleep. She discovers that an ordinary girl is capable of extraordinary things, and that she's more resilient than she imagined. Even so, she wishes more than anything that she could just find another survivor.
Unfortunately for Scarlett, not everyone who survived the plague is looking for companionship. And she's about to find out just how difficult survival really is.?
The Somniscient
$3.99
(Available in eBook & paperback)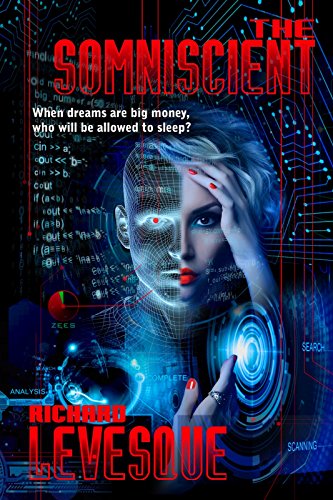 When reformed dream hacker Nix Nighthawk's sleep chip malfunctions, he is forced to seek help from a world he is trying to avoid—his old friends in the pirate dream network. But that world has changed, and Nix soon finds himself at the center of a complex plot to overthrow the vast corporation that controls every aspect of society. Betrayed by his lover, his friends, and even the technology that defines him, he has to choose: go back to living his safe and controlled existence, or be the hero and join forces with the revolutionary known only as The Somniscient.
Take Back Tomorrow
$3.99
(Available in eBook & paperback)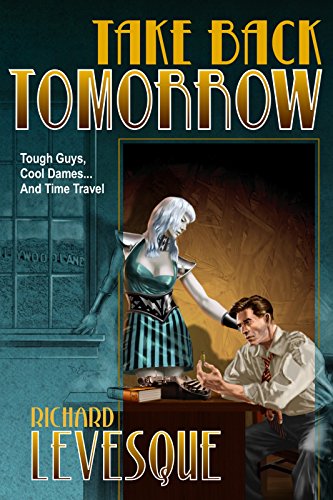 "Raymond Chandler meets Robert Heinlein in this fun and inventive crossover SF novel from Richard Levesque."–J. Orr, Amazon Reviews
Eddie Royce is an up-and-coming science fiction writer with a terrible secret: he cheats.
He knew he'd get caught, of course. Eventually. But not like this. When disaster finally strikes, it strikes big, and Eddie is confronted by the worst person imaginable: his idol, the SF master, Chester Blackwood.
To Eddie's great surprise, however, Blackwood has secrets of his own, and instead of outing him, the master story-teller quickly embroils Eddie in a real-life mystery of time travel, beautiful women, and Hollywood gangsters. But then Blackwood disappears, so if Eddie wants to keep both the fame and the girl, he's going to have to do the one thing he's never been able to get right before: plot his way out of a crisis.
And the stakes if he fails? The very future of science fiction itself.
Reviews
"The pace of the story is quick, and the time transitions are handled well. Overall, this is a good novel, one that even readers with little interest in sci-fi might enjoy." — Publishers Weekly.*
"Hardboiled 30's crime thriller meets time-traveling pulp science-fiction for an original fast paced, page turner."–S. Sager, Amazon Reviews
"It has a distinctly 'noir' flavor as well as an old school science fiction feel. It is fast paced and clever."–C. Pellitteri, Amazon Reviews
"Apart from stopping to have something to eat I haven't been able to tear myself away from this until I had finished it. This is good old time story telling that is well written, and definitely well worth reading."–M. Bowden, Amazon UK Hall of Fame Reviewer
Richard Levesque writes novels and short stories by night and is an English professor by day. He mostly writes science fiction and paranormal fantasy blended with noir-style mystery. He is currently working on his next novel.
*This review was of the manuscript version submitted to Amazon's Breakout Novel Awards competition in 2012.
Strictly Analog
$3.99
(Available in eBook & paperback)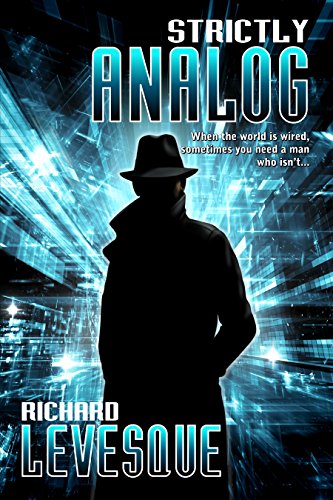 Fans of William Gibson, Jonathan Letham, and Richard K. Morgan will enjoy Strictly Analog by Richard Levesque.
What's a private detective to do in a future where nothing is private any more?
For Ted Lomax, the answer is to find clients who need their info kept off the grid, and that's what Ted has done for years, skirting the high tech that runs the new California and living on the fringes of society. But when his daughter is accused of murdering her boyfriend—an agent in the Secret Police—Ted has to dig himself out of the hole he's been in for years in order to save her.
Before long, he's pulled into a shadow world of underground hackers, high-end programmers, and renegade gear-heads, all of whom seem to have a stake in California's future. The further he digs into the case, the clearer it becomes that it's about more than one dead agent. Solving it might save his daughter. And it might get him killed. And it just might open the door to secrets that reach back to the attack that almost killed him eighteen years before. At any rate, Ted Lomax will never be the same.
"…fast-paced futuristic thriller…"—Publishers Weekly*
"…a well-crafted story with realistic characters we can root for in a hard-boiled landscape…It's a story that should appeal to fans of early Gibson or Sterling. And now that our world is much closer to the cyberpunk vision of tomorrow that was forecast decades ago, the story should appeal to contemporary detective fiction fans too. Strictly Analog is highly recommended."—The New Poddler Review of Books
"The main character, Ted Lomax, is strong and believable while the writing style, brisk and no-nonsense fits perfectly with the premise."—Amazon Expert Reviewer
*This review was of the manuscript version submitted to Amazon's Breakout Novel Awards competition in 2012.
Walk a Mile (short story)
$0.99
(Available in eBook & paperback)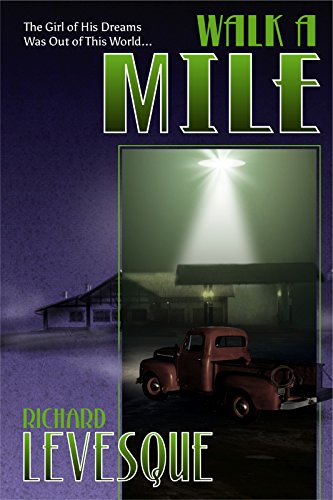 Mike Parker does what's expected of him. He helps out with his uncle's gas station after graduation even though he feels he should be going off to war. And while he wishes the prettiest girl in town would notice him, she never does, so he keeps a respectful distance.
But all that changes for Mike late one night when an old pick-up pulls into the gas station, riding on a flat. And the person who gets out just isn't who she appears to be. One kiss later, and Mike Parker will never be the same.
Fantasy
The Devil You Know
$3.99
(Available in eBook & paperback)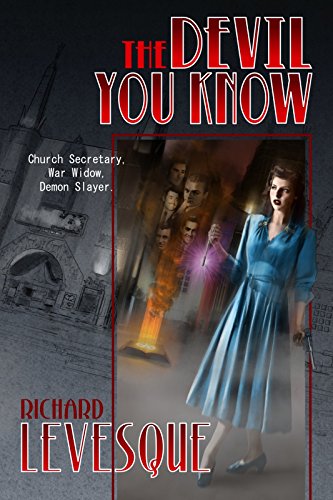 1946: The war may be over, but in Hollywood all hell is breaking loose.
When Marie Doyle discovers that demons are seducing the young women of Hollywood, she doesn't know where to turn for help. But when a demon takes the soul of her best friend, Marie has no choice but to stop them herself.
Church secretary, war widow, and now demon slayer, Marie enters a world she never knew existed—a world not just of desperate ingénues and Hollywood scandals, but also one of ravenous monsters.
The devil you know may be better than the devil you don't, but for Marie Doyle the choice might not matter. With demons on the loose and no one else aware of the truth, her only option is to send them back to hell—even if it means risking her soul.
The Ace Stubble Series (Novellas)
Dead Man's Hand (Ace Stubble Bk1)
FREE!
(Available in eBook & paperback)
Zombies, werewolves, vampires, rival Bowie tribute bands, and conjoined twin mobsters…it's all in a day's work for Ace Stubble, a gritty lawyer whose clients are the undead and paranormal. Feeling a bit worn out, Ace just wants a vacation. But when a cute hacker with a big problem talks Ace into helping her out, he decides to call in some favors and be the good guy. It's not long before he's in deep trouble, and it's going to take more than smooth talk and quick wits if he wants to get out of this bind in one piece.
Unfinished Business (Ace Stubble Book 2)
$0.99
(Available in eBook & paperback)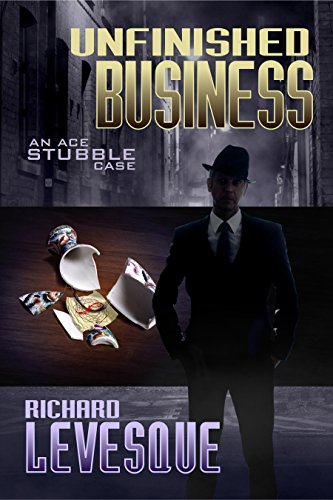 It's another open and shut case for Ace Stubble, lawyer for the undead and disembodied. At least that's what he thinks. When Cordelia Dearborn—a ghost with a shady past—hires Ace to rid her home of pesky, freeloading descendants, Ace figures he'll have no problem collecting his fee. But there's more to this case than a cranky old ghost and houseful of unwanted people.
Historical/Myst Thriller Suspense
The Foundlings
$3.99
(Available in eBook & paperback)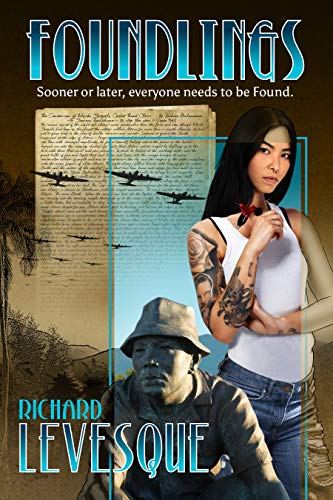 Derek Chandler had it all—the education, the promising future, the beautiful wife—but a tragic accident changed everything and his life now stands in ruins. Haunted by the ghosts of what might have been, Derek tries to lose himself in his new job, but what begins as a minor academic mystery soon unravels, leaving him with the burden of a second truncated life: that of long-vanished science fiction writer, Kichiro Nakamura.
Convinced that finding Kichiro is somehow the key to finding his own peace, Derek is drawn into a frantic search of modern and post-war Los Angeles as he tries to reconstruct the shattered kaleidoscope of American and Japanese cultures. And the key to everything just might be the beautiful—and very suspicious—tattoo artist, Yuki Kamikaze.