Nathan Lowell needs no introduction, but I'll say something, anyway. As a friend, he's been wonderful. As an advisor, his advice is always dead on. As a peer, I hold him in highest esteem. As an author, you who love hard science fiction in the tradition of the greats, his works will more than satisfy. — D. L. Keur
NATHAN LOWELL has been a writer for more than forty years, and first entered the literary world by podcasting his novels.
His sci-fi series, The Golden Age of the Solar Clipper grew from his long time fascination with space opera and his own experiences shipboard in the United States Coast Guard. Unlike most works which focus on a larger-than-life hero (prophesized savior, charismatic captain, or exiled prince), Nathan centers on the people behind the scenes—ordinary men and women trying to make a living in the depths of space. In his novels, there are no bug-eyed monsters, or galactic space battles, instead he paints a richly vivid and realistic world where the "hero" uses hard work and his own innate talents to improve his station and the lives of those of his community.
Dr. Nathan Lowell holds a Ph.D. in Educational Technology with specializations in Distance Education and Instructional Design. He also holds an M.A. in Educational Technology and a BS in Business Administration. He grew up on the south coast of Maine and is strongly rooted in the maritime heritage of the sea-farer. He served in the USCG from 1970 to 1975, seeing duty aboard a cutter on hurricane patrol in the North Atlantic and at a communications station in Kodiak, Alaska. He currently lives in the plains east of the Rocky Mountains with his wife and two daughters.
From Nathan:
My "golden age of science fiction" started when I was ten in 1962. I rapidly exhausted all the sci-fi titles at my school library. To feed my reading obsession, an aunt who was a voracious reader, dropped off a paper grocery bag full of Ace Doubles every month. For those unfamiliar, a double is two novellas in one book printed back to back. You read one to the middle, then flip it over and read the other. My inspiration comes from all the greats: Asimov, Bujold, Cherryh … through Lackey, Modesitt, Moon … all the way through Weber, Willis, and Zelazny. I always had a desire to write fiction and when I started listening to books on podcasts, I knew I found a media to tell the stories bottled up in me.
Seeker's Tales from the Golden Age Of The Solar Clipper

Buy the Series $14.85
In Ashes Born, Book 1, Seeker's Tale Series
$4.95
(Available in eBook & paperback)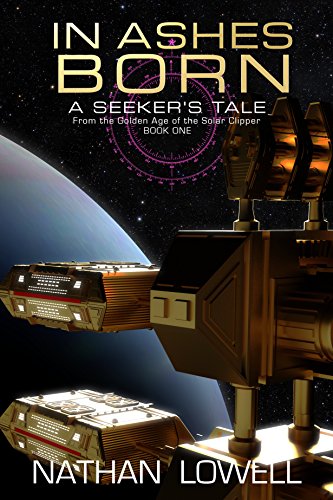 An old friend. A new course. A deadly ship with a secret cargo.
Ishmael Wang returns to Port Newmar but ghosts from his past have followed him. His old shipmate, Phillip Carstairs, offers him the opportunity to track down the man who killed his lover. The catch? He must take command of the Chernyakova, a ship that still stinks of death and haunts Ishmael's nightmares. Together, Phillip and Ismael begin a journey into unknown reaches of the Deep Dark to bring back the man who killed Greta.
To Fire Called, Book 2, Seeker's Tale Series
$4.95
(Available in eBook & paperback)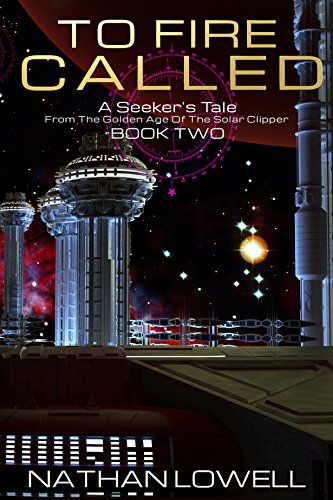 A dead ship returns to the Deep Dark with a live crew.
Captain Ishmael Wang finally gets the Chernyakova out of the yard and embarks on a voyage into the Toe-Holds where the Confederated Planets Joint Committee on Trade has no authority. Where the law is whatever you say it is as long as you can enforce it.
Where he learns that some will do anything to hide their secrets and everybody has a secret.
By Darkness Forged, Book 3, Seeker's Tale Series
$4.95
(Available in eBook & paperback)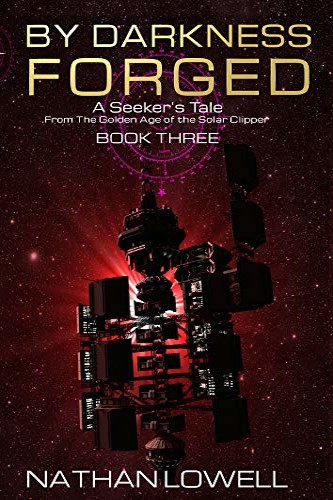 Profits. Coffee. Extortion. All in a day's work.
When Ishmael takes the Chernyakova back into Toe-Hold space, he finds a lot more than profit. A quick pass through the Telluride system reveals the answer to one question but leaves him docked without a cargo until the owner of Dark Knight Station makes him an offer he can't refuse.
Smuggler's Tales from the Golden Age Of The Solar Clipper

Buy the Series $14.85
Milk Run, Book 1, Smuggler's Tales Series
$4.95
(Available in eBook & paperback)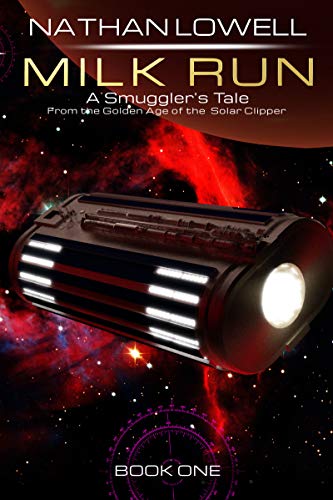 Academy graduate Natalya Regyri stood first in line for her pick of Engineering Officer jobs, until, at the graduation party, a classmate turned up dead. Now, betrayed by her friends and framed for murder, she must flee beyond the reach of the Confederation …and any semblance of civilized society.
With a damaged second-hand ship and TIC interceptors dogging her step, she nets a smuggling contract that might just get her back on her feet and in control of her destiny. But only if she's willing to make an ore run back to the place she's wanted for murder, and into the arms of the authorities…
…who somehow know she's coming.
Suicide Run, Book 2, Smuggler's Tales Series
$4.95
(Available in eBook & paperback)
A new ship. A young crew. A dream job gone horribly wrong.
When circumstances drive Zoya and Natalya to accept an offer from the most powerful organization in the Western Annex, it looks like their ship – literally – comes in. The job fails to live up to its promise and the pair soon find themselves fighting for their lives against a booby trapped ship and its unseen master.
Will they unmask their enemies and survive their Suicide Run?
Home Run, Book 3, Smuggler's Tales Series
$4.95
(Available in eBook & paperback)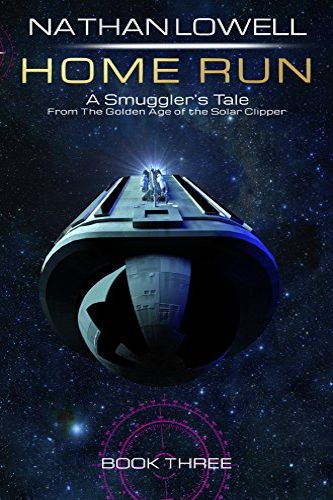 Two women. One mission. Do what ever is necessary.
In this final volume of the Smuggler's Tales, Natalya and Zoya wind up on a mission of mercy back into Toe-Hold space to find out why one of Usoko Mining company's smelters has gone dark. They find an expanding cloud of debris, a crippled ship, and a fleet of mining barges that can't leave the system.
Trader's Tales from the Golden Age of the Solar Clipper Series (6 books)

Buy the Series $29.70
Quarter Share, Book 1, Trader's Tales Series
$4.95
(Available in eBook & paperback)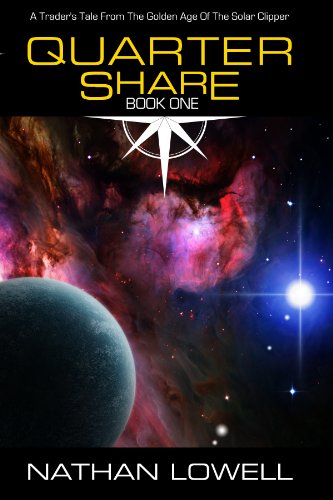 The Golden Age of Sail has Returned — in the Year 2352
When his mother dies in a flitter crash, eighteen-year-old Ishmael Horatio Wang must find a job with the planet company or leave the system–and NerisCo isn't hiring. With credits running low, and prospects limited, he has just one hope…to enlist for two years with a deep space commercial freighter. Ishmael, who only rarely visited the Neris Orbital, and has never been off-planet alone before, finds himself part of an eclectic crew sailing a deep space leviathan between the stars.
Join the crew of the SC Lois McKendrick, a Manchester built clipper as she sets solar sails in search of profit for her company and a crew each entitled to a share equal to their rating.
Half Share, Book 2, Trader's Tales Series
$4.95
(Available in eBook & paperback)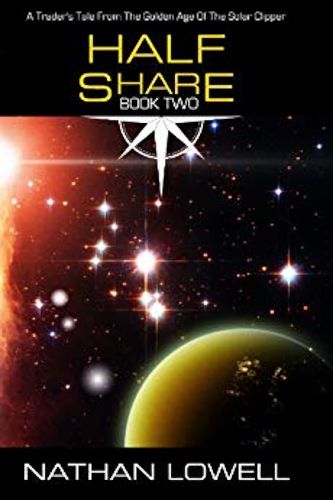 Six months in the Deep Dark. Four different women. One man discovers what it means to be a spacer.
It's a time of change on the Lois McKendrick. Sarah Krugg joins the crew and Ishmael Wang moves to Environmental. After getting accustomed to life aboard a solar clipper, Ishmael must learn a whole new set of skills, face his own fears and doubts, and try to balance love and loss in the depths of space.
Both Ishmael and Sarah must learn to live by the mantra, "Trust Lois." For Sarah, there is the hope of escaping a horrifying past. For Ishmael, he must discover what type of man he wants to become and learn his choices have consequences.
Return with the crew of the SC Lois McKendrick, and set sail in the next installment of the Trader's Tales from the Golden Age of the Solar Clipper. All your favorites return: Ish, Pip, Cookie, Brill, Diane, and Big Bad Bev. You might even discover some new friends as you travel among the stars.
Full Share, Book 3, Trader's Tales Series
$4.95
(Available in eBook & paperback)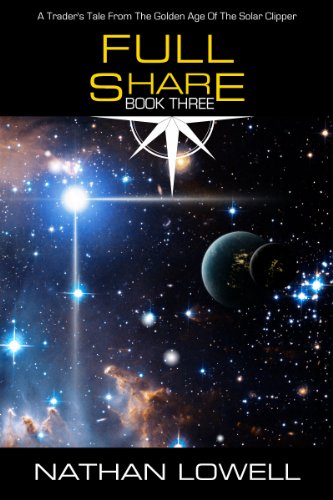 If there was ever a time to "Trust Lois"…
The Lois McKendrick runs headlong into trouble when a routine in-system transit goes bad. Ishmael and the rest of the crew must scramble to figure out what went wrong and how to fix it in order to keep the ship alive.
Learn more about the officers and crew of the Lois McKendrick as they struggle to keep their ship and discover how Ishmael finds out how wrong he's been about what it means to be a spacer in this latest Trader's Tale.
Double Share, Book 4, Trader's Tales Series
$4.95
(Available in eBook & paperback)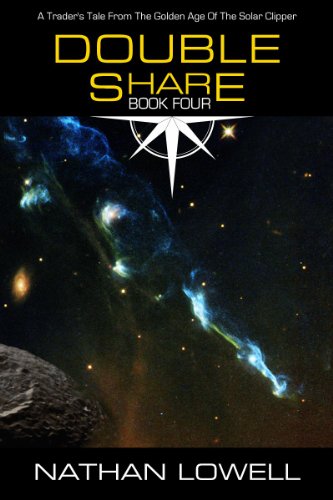 An inexperienced officer. A dysfunctional ship. Life in the deep dark just got a lot harder.
In his first assignment as an officer, Ishmael Horatio Wang finds himself fresh out of school, wet behind the ears, and way out of his depth. Aboard the William Tinker the senior officers are derelict and abusive, the crew demoralized and undisciplined, and change unwelcomed and dangerous. Can Ishmael use what he learned aboard the Lois McKendrick to help the crew find the ship's heart? Or will he discover that bucking the system may come at too high a price? Return to the Deep Dark with Ish in this fourth installment of the award winning Solar Clipper Series as he makes the transition from crew to officer.
"Fans of Nathan Lowell's Solar Clipper series are legion, and for just cause. Each book provides another chapter in the life of one of the most endearing characters to come along in recent memory. Nathan demonstrates that suburb story telling doesn't require massive space battles or warring aliens, just great characters and a knack for spinning a really compelling tale." —Michael J. Sullivan, author of the Riyria Revelations
Finalist 2009 Parsec Award for Best Speculative Fiction (Long Form)
Captain's Share, Book 5, Trader's Tales Series
$4.95
(Available in eBook & paperback)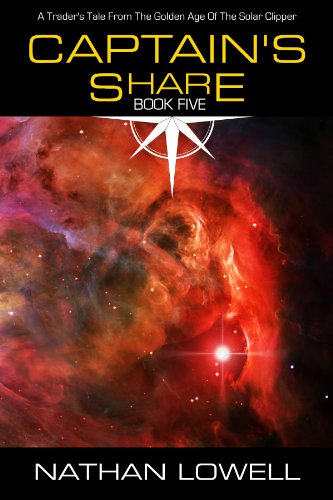 A good captain protects his crew. Who protects the captain?
A good captain protects his crew. Who protects the captain?
A shuffling of cabins puts Ishmael Horatio Wang in command of the worst ship in the fleet. He learns that being captain doesn't make you infallible and that life in the captain's cabin is filled with new kinds of challenge as he tries to keep the ship moving, the crew out of trouble, and turn a profit to earn his Captain's Share.
A good captain protects his crew. Who protects the captain?
In a ship where the officers outnumber the crew, can he keep everybody happy? Welcome to the SC Agamemnon.
Owner's Share, Book 6, Trader's Tales Series
$4.95
(Available in eBook & paperback)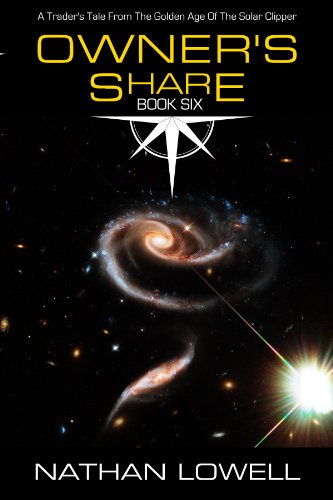 Everything in the universe comes with a price.
When Diurnia Salvage and Transport undergoes a change in management, Captain Ishmael Horatio Wang finds himself adrift in a sea of red ink, and intrigue. He dives in only to find that he is over his head in a universe where cut-throat competition takes on an all new meaning. What tragic price will Captain Wang pay for his Owner's Share?
Fantasy Novels by Nathan Lowell
Ravenwood, Book 1, Tanyth Fairport Series

$4.95
(Available in eBook & paperback)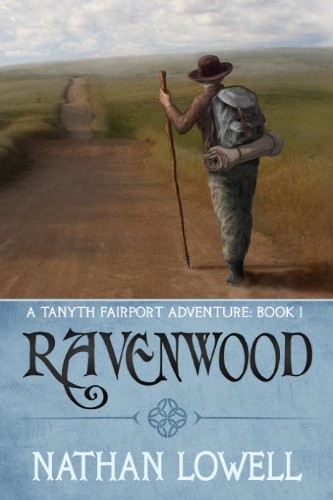 You're never too old to make a bad decision.
After twenty winters on the road, Tanyth Fairport makes one last pilgrimage in her quest to learn all she can about the herbs and medicinal plants of Korlay before settling down to write her magnum opus. Her journey is interrupted when she decides to help a small village and learns that much of what she knows of the world may not be quite as it seems.
Nathan Lowell blends wiccan tradition and shamanistic lore into a fantasy quest for a new – if unlikely – heroine. She learns that the familiar sometimes hides the fantastic and that, even when you think you've made your decisions, life doesn't always agree.
Zypheria's Call, Book 2, Tanyth Fairport Series

$4.95
(Available in eBook & paperback)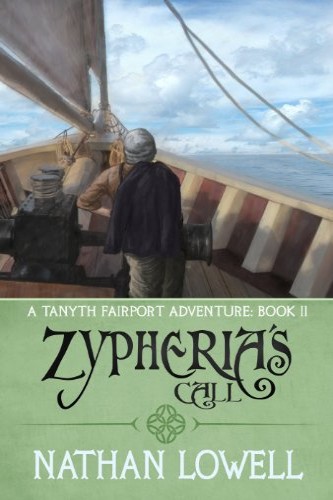 Sometimes the longest journeys are within.
Tanyth must make her way across the ocean to continue her voyage to find the hermit of Lammas Wood. Storms and ice block her path, but her most serious enemy may be people she has never met.
As her power grows, she must come to grips with the changes within her even as she must answer the Zypheria's Call.
The Hermit of Lammas Wood, Book 3, Tanyth Fairport Series
$4.95
(Available in eBook & paperback)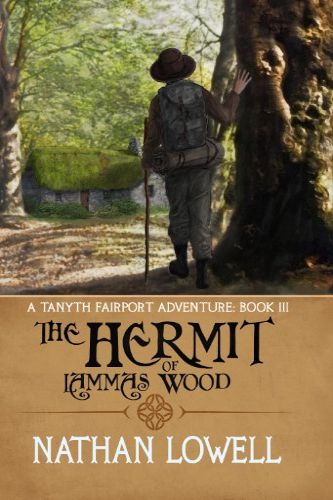 Some journeys take you where you need to be.
Tanyth Fairport makes her way through the Lammas Wood to discover the last of the Old Witch Women
Other Books and Shorts
South Coast (Shaman's Tales From The Golden Age Of The Solar Clipper Book 1) (science fiction)
$4.95
(Available in eBook & paperback)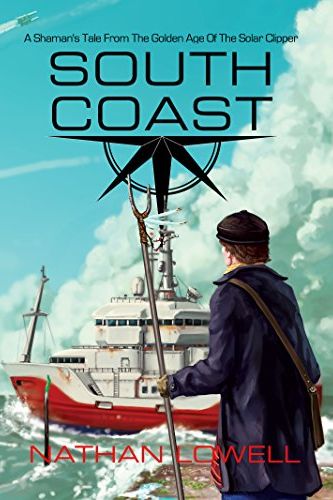 Son of a Shaman.
Otto is Richard Krugg's only son and heir to the Shaman's gift. Otto doesn't want it. He wants to be a fisherman. When company policies force unwelcome changes onto his life and threaten even the security of the village, Otto discovers that being a shaman isn't optional.
Jimmy Pirano is caught between the devil and the deep green sea when new production quotas are handed down from corporate headquarters. Locked into a century of existing practice, Jimmy is forced to find new ways to fish and new places to do it in or face the very real possibility that Pirano Fisheries will lose the St. Cloud franchise.
Join Otto, Richard, and Rachel Krugg as they struggle with what it means to be the son of a shaman. Cast off with Jimmy, Tony, and Casey as they navigate the shoals and shallows of corporate fishery along the South Coast.
The Astonishing Amulet of Amenartas (Tale from the Archives)
$0.99
(Available in eBook & paperback)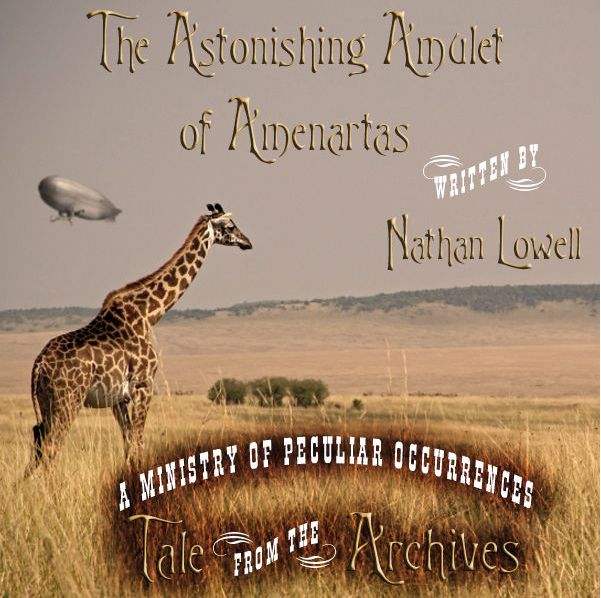 Agent Heathcliff Durham finds himself crisscrossing Africa, looking for an Amulet that could spell disaster for any who come near it. Battling blistering heat, starvation, wild animals, and despair, he is not comforted by the company of a rough and ready sort named Morrison. Soon Durham begins to suspect he may never return home—and to top it all off the tea has almost run out.
Tales from the Archives are short stories set in the world of the Ministry of Peculiar Occurrences. They explore events mentioned in the novels, characters seen and unseen and may include novel teasers of things to come.
The Sovereign Era: Year One, an Anthology by Multiple Authors, Jeffrey Himmelman (Illustrator)
$2.99
(Available in eBook & paperback)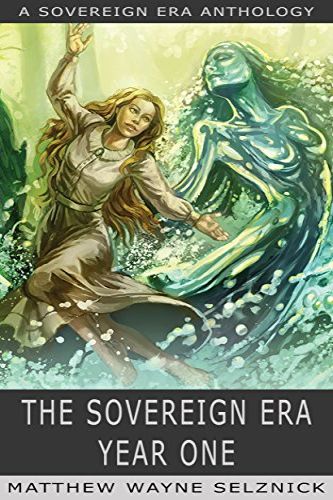 This seven-story anthology from creator Matthew Wayne Selznick is a glimpse into the first year of the Sovereign Era, that period in the late 20th century when the appearance of individuals with remarkable abilities rocked the delicate Cold War balance of power and forever altered the course of human destiny.
The Sovereign Era began in April of 1985 (as depicted in "Brave Men Run — A Novel of the Sovereign Era"), when Dr. William Karl Donner revealed that super-powered metahumans existed, declared their autonomy, and demonstrated his ability to enforce that demand.
Arrangements between Donner and the government of the United States resulted in the establishment of the Donner Institute for Sovereign Studies, a compound in central Montana where the "Sovereigns" could find refuge and learn more about themselves.
Over the next twelve months, while the world struggled to deal with the political and social repercussions caused by the existence of the Sovereigns, the metahumans themselves mostly tried to find their place in the world.
That's what these stories are about.