Intelligence graces his every utterance. Drollery drips from his lips and from his fingers, gentility from his soul. But his writing is not for the meek or weak of mind. That said, I can think of no better introduction to author Dave Higgins than offered by these two quotes:
"Dave Higgins weaves a cocoon of dread around you and won't let you out."
– Simon Cantan, author of the Bytarend Series
"There's a running theme of the otherworldly, ranging from the very grounded and possibly-coincidental… to the dangerously potent…"
– Neil Murton, author of Magpie Tal
— D. L. Keur
---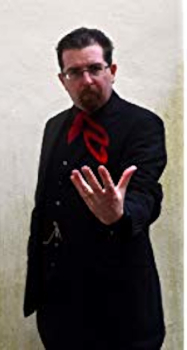 Dave Higgins writes speculative fiction, often with a dark edge. Despite forays into the mundane worlds of law and IT, he was unable to completely escape the liminal zone between mystery and horror. A creature of contradictions, he also co-writes comic sci-fi with Simon Cantan.
Born in the least mystically significant part of Wiltshire, England, and raised by a librarian, he started reading shortly after birth and has not stopped since. He currently lives in Bristol with his wife, Nicola, his cats, Jasper and Una, a plush altar to the Dark Lord Cthulhu, and many shelves of books.
---
By Dave Higgins (dark speculative fiction)
Seven Stones: The Complete Series
$5.99
(Available in eBook & paperback)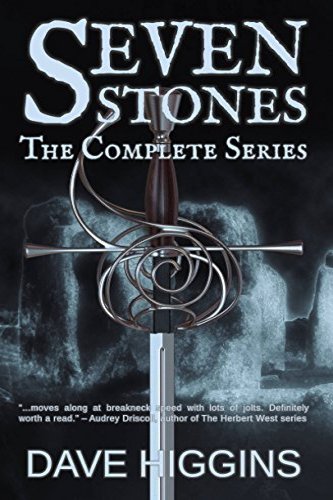 The complete swords-and-sorcery serial, Seven Stones.
Plagued by nightmares of shifting stone and ancient evil, Absolution Kobb, Reverend Militant of the Order of the Maker, journeys to the northern edge of civilisation. Encountering violence from both villagers and the inhuman tribes that dwell beyond the palisades, and exhausted from both his age and his visions, he is saved by two very different people: Anessa, a young villager seeking to escape a life of shopkeeping; and Haelen, an ageing healer seeking his kidnapped daughter.
At first, their aims align. However, with every step toward sealing the evil away taking them further from the simplicity of heroes opposing the darkness, they must each decide not only how far they will go but when an ally becomes a villain.
An Unquiet Calm: A Collection of Short Stories (Bespoke Imaginings Book 1)
$0.99
(Available in eBook & paperback)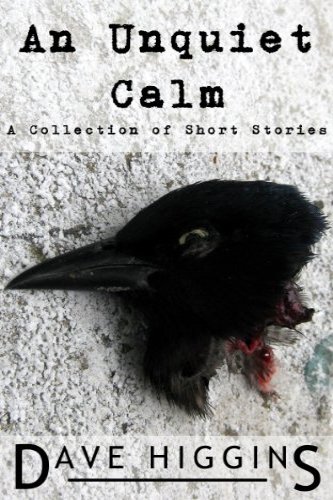 A collection of five short works of speculative fiction exploring the dark places of the mind:
1. Thieves in the Night: With Comet Grijalva predicted to wipe out life on Earth, Jason Pendrick fled to his uncle-in-law's farm. When the apocalypse doesn't happen, he has an opportunity to help rebuild society, but will the past drag him down? (6,444 words)
2. Washed Clean: Seimunda lives in a hovel, eking out a living bartering herbal remedies to villagers. But an accusation of witchcraft threatens to rob her of even that. (1,326 words)
3. Some Secrets: Always appearing when least expected, a mysterious man orders whichever sandwich Jo has been eyeing up. Do they just have similar tastes or is it something more inexplicable? Either way, there is definitely a connection. (2,572 words)
4. Blossom: When Mari Austan's husband, Jerek, joins the army she is left to run their drought-stricken farm alone. As both her crop dies and the letters home falter, she relies on cold fury to get through the days. But will she break before the weather does? (1,003 words)
5. An Unquiet Calm: When Frances Withrick is found holding the revolver that killed her husband, Inspector Stevens expects an all too human case of anger and regret. But a second killing and evidence the revolver was loaded with very unusual cartridge, force Stevens to consider a different theory: that the whispers of an inhuman force in the hills are true. (4,913 words)
State: A Collection of Short Stories (Bespoke Imaginings Book 2)
$2.99
(Available in eBook & paperback)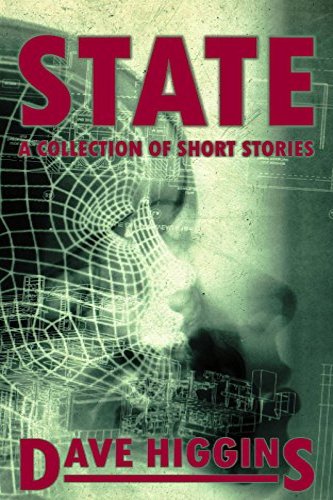 Five short works of science-fiction:
1. Shoulders of Giants: With a Comet Grijalva predicted to exterminate humanity, Commander Matej Tomasch and Flight Engineer Nathan Roberts decide to remain aboard the International Space Station to document the apocalypse. When the comet breaks up, filling their flight path with debris, how will they cope with being the only ones still at risk? (2,315 words)
2. Pig Boy: Billy has spent his entire life being told he should be grateful Mr Samuels rescued him from the wasteland. And for all his life, he has done the worst jobs without complaint. But how will he cope with the death of his only friend? (1,692 words)
3. Crest of a Wave: Captain Isamir Yarkis, viewed by his peers as the last remnant of a more violent age, serves out his commission delivering supplies to obscure research colonies. Discovering his destination destroyed by seismic activity and a mysterious artefact drifting through the system, his gut tells him there is a connection. But, even if there is, was the artefact the cause or did it try to save the colonists? (5,476 words)
4. Fair Shares: Scout Harrin Beckles recovers consciousness deep in enemy territory with a serious bullet wound and a patchy memory. Piecing together the past, he realises the enemy might not be the only people with reason to want him dead. With minimal supplies, he can either make for home or pursue vengeance, but who can he trust? (2,283 words)
5. State: Ben Gately's mother has refused all contact since Ben and his Dad fled the aftermath of a brutal coup in the United Kingdom for the USA. Two decades later, she summons him to her deathbed. With the USA regarding the Communal Polity of Britain as an enemy state, Ben is terrified the even considering her request will make him seem a political radical, but does he have the will to let her die alone? (12,868 words)
By Dave Higgins and Simon Cantan
Origin (Dragons & Magic Book 1)
FREE!
(Available in eBook & paperback)
Some people are born to advantage, privilege. Edmond was born to village idiots who put all his skill points into Luck. They knew an opportunity to win the lottery when they saw it.
Edmond doesn't want to be a winning ticket. He dreams of becoming a great hero and scholar. Impossible goals when your Intelligence and Wisdom stats couldn't be lower.
Is Edmond nothing but a walking rabbit's foot? Will his parents' dreams of easy fortune come true? It's all just a lucky roll away.
We want you to know you're going to like the series before you buy. Check out this free introductory taster for what to expect; then move on to the full novels if you enjoy it.
Adventure (Dragons & Magic Book 2)
$3.99
(Available in eBook & paperback)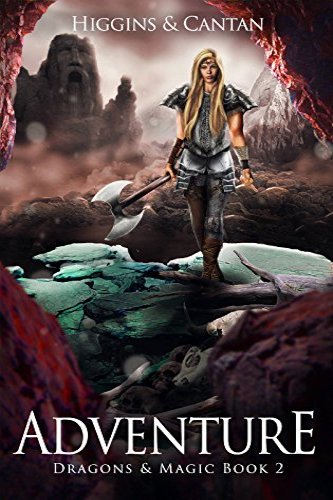 Hair like a waterfall at sunset, skin of pure snow, and a tinkling laugh that sends a shiver up Edmond's spine. He knows it's just because of Melinda's high Charisma, but he doesn't care. Edmond is in love.
When Melinda is taken by the dragon that lives beneath their town, he knows he has to save her. In books, it's always the lowly shop boy who succeeds where others have failed. He doesn't have the Strength of a warrior, the Dexterity of a rogue, or the Wisdom of a magician. He just has his Luck.
Luck and a best friend with muscles like boulder-covered rocks.
Sorcery (Dragons & Magic Book 3)
$3.99
(Available in eBook & paperback)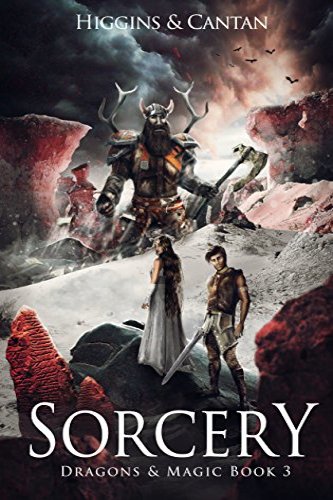 Peony has a lot to live up to. Daughter of the legendary heroes, Edmond and Daffodil, all they've ever wanted for her is a safe life. One as far away from dragons and monsters as possible. But, like a lot of children, that only draws her closer to danger.
When Peony is kidnapped, it seems like her chance at adventure has finally come. But is she ready for it?
Greenstar Complete Season 1: The Space Opera (A Josie Stein Comedy)
$0.99
(Available in eBook & paperback)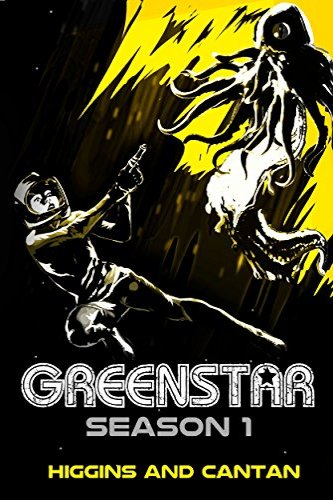 Humanity's best hope is a wicker spaceship.
Josie Stein woke up a thousand years in the future and was immediately elected captain of the U.F.S. Greenstar, a recycled spaceship on a mission to stop the self-destructive aliens of the galaxy from wiping themselves out.
Now the Kalmari, a homicidal race of aliens, have set their sights on Earth. How can the ramshackle Greenstar possibly stand in their way?
A fun and fast-paced episodic season of stories that will have you laughing out loud. Find out just how weird the future can get.
Greenstar Season 2 (A Josie Stein Comedy)
$5.99
(Available in eBook & paperback)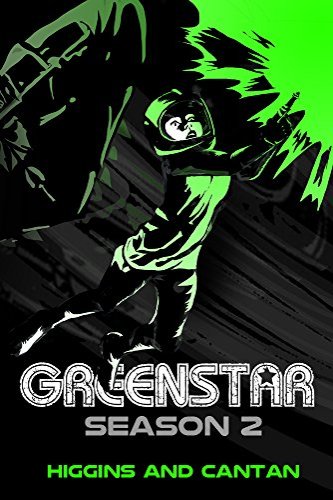 Josie Stein saved humanity and they hate her for it.
Josie foiled a scheming, homicidal AI. She saved the Earth from the Kalmari. But nothing is good enough for Burger Supreme: they think a ray forcing everyone to have a conscience is a bad thing.
Dispatching Vesta Hartman, a captain with two itchy trigger fingers and everything to prove, Burger Supreme want the Greenstar brought to justice at any cost. Even if it means turning it to powder first.
Pursued relentlessly, Josie is faced with impossible choices: run and spend an eternity with Pol, or try to redeem the Greenstar before Vesta catches them.
Greenstar Season 3 (A Josie Stein Comedy)
$5.99
(Available in eBook & paperback)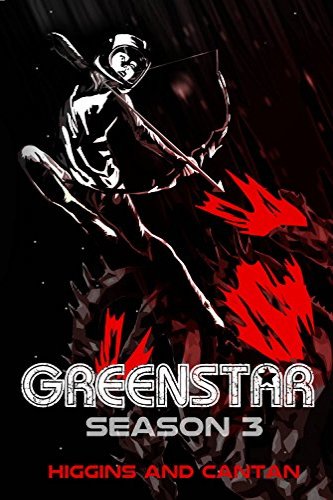 What if you really had to start again from scratch?
After saving Earth for the second time, Josie thought she finally had time to deal with personal business. But a booby trap in the Greenstar's engines meant she really got away from it all.
Trapped in a featureless void, with only the Greenstar's crew and an equally odd interloper for company, she discovers that even being the first woman in a new universe won't protect her from having to solve everyone else's problems.